CANDID COMMENTARY
THE BLENDING OF HISTORY,
STORIES, and TODAY'S EVENTS ...
... LEADING TO TOMORROW
-------------------------------------------------------------------------------------------------------------
Candid Commentary

May 2006
TED LUEDKE comments@boxlt.com
Despite what a few narrow focused educators have done with banning the military from campuses, from talking with high school'ers and the latest banning of the celebration of Memorial Day, WE THE PEOPLE still understand that:
It's the Military, not the reporter who has given us the freedom of the press.

It's the Military, not the poet, who has given us the freedom of speech.

It's the Military, not the politicians that ensures our right to Life, Liberty and the Pursuit of Happiness.

It's the Military who salutes the flag, who serves beneath the flag, and whose coffin is draped by the flag.
With this in mind approaching this Memorial Day 2006, I was thinking back on my Marine days and as always, my memory slips back to a day in 1961 on Okinawa, Ryuquean Islands, Japan and a discussion I had with an old salt Gunnery Sergeant. It went something like this:
---
Try to remember ….
The Gunny reached for the mike and requested a radio check. Read you 5x5 came back from the shop at Fatema and the Gunny gave a hint of a smile … but just a hint mind you! The TRAC 75 and the UHF unit in the back of the ambulatory sized jeep had worked fine on all the channels we tested, right on through this last one, after almost a month of work in the shop. Now it was time for a smoke … 'smoke um if you got um'!
Parked over looking the East Chine Sea I shook out a Pall Mall, lit up and wondered aloud, "How in the hell did those grunts take this rock island?" Gunny turned slowly on the seat and looked at me, paused and said, "We knew when to duck, Corporal! … if you had paid attention during ITR you would know." His face grimaced some as he very quickly listed the on the job training they had, campaigning the islands that lead up to Okinawa, where we sat in our bright, shinny jeep. Guadalcanal, Peleliu, Iwo Jima and others had shocked them to a point of numbness … a hardness that enabled them to put their fear in their pocket as they rushed ashore. Bits of memories came out, more as thoughts and flashes, of Marines falling all around him as a Pvt. trying to fight his way (live) through the beachhead.
It was quiet on the drive back to the airstrip that day, some 45 years ago as the Gunny reviewed a long list of Marines. I just drove, catching a brief look into his past. My 4 years as an electronics tech in the Marine Air Wing wouldn't see my mettle tested at all, surely not as those Marines had been as they assaulted Okinawa … and what was to be the last amphibious landings of WWII. But the Gunny was remembering … and I was taken by this tough, strong, at times over bearing Marine … and his rigid seat and quiet stare out through the windshield. No longer talking …but reaching back and remembering.
It is time again for all of us to remember! MEMORIAL DAY is all about honoring and remembering.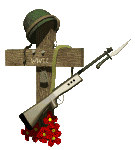 1. by visiting cemeteries and placing flags or flowers on the graves of our fallen heroes;
2. by visiting memorials;
3. by flying the U.S. Flag at half-staff until noon;
4. by flying the 'POW/MIA Flag' as well (Section 1082 of the 1998 Defense Authorization Act); by participating in a "National Moment of Remembrance": at 3 p.m. to pause and think upon the true meaning of the day, and for Taps to be played;

5. by renewing a pledge to aid the widows, widowers, and orphans of our fallen comrades, and to aid the disabled veterans.
Help return minds and hearts to think upon the ultimate sacrifices made by servicemen and women. Take your neighbor with you. Just one day out of the year to honor our buddies, our friends, our ancestors, who died in conflicts and wars -- not to honor war, but those that died in the furtherance of our freedom. Take time to listen to Marine veteran Henry W. Andrasovsky tell his story about WWII, Korea and Viet Nam experiences on the Library Of Congress, "Veterans History Project" web site:
http://lcweb2.loc.gov/cocoon/vhp/story/loc.natlib.afc2001001.23434/
During one of my talks with grand pa in the '50's, he told me how the American public DID NOT want to go to war in Europe. It was not our war, they were not our people he commented … it was none of our affair he said. But once Deleno (a negative cut using the presidents middle name) took us there, we linked arms and massed to support our country and our military men and women. Had we not done that, history has shown that our country would most likely have suffered dearly, for as sure as we are sitting here, those tyrants would have next turned their cannons on us. We didn't talk much, but when we did ... I tried to pay attention.
And so it is again today. A new tyrant, a new battle, but again trying to preserve our American way of life. Our last battle to preserve American that took place on American soil was the Civil War, and we are again determined to take the conflict to the door of the aggressor … protecting our way of life … before they bring it to our door. 911 proves they know where we live.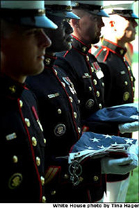 We never spoke of that day long ago. By the time we returned to the airstrip he was again, "THE GUNNY", and I "the corporal." I still wonder though … "How in the hell did those grunts take that rock island?"
Luedke, Ted W. Cpl … Remembering a day, a Gunny, lost comrades ... and friends.
Sub Unit #2, MABS 16, MAG 16, 1st MAW; MCAF – Fatima, Okinawa (now called Futenma).
SAEPE EXPEATUS OFTEN TESTED
FRATRES AETENI BROTHERS FOREVER
SEMPER FIDELIS ALWAYS FAITHFUL

---
A very special tribute to our WWII Veterans was developed by Sam Birestock & John Melnick. Called BEFORE YOU GO, it is an audio visual THANKS to that era of vets. Please take time to visit this free website and be sure your audio is turned on. (This takes some time to load - be patient)
http://www.managedmusic.com/beforeyougo.html

Also, the local TV did a nice audio/visual of the ceremony at the National Veterans Cemetery in Springfield, MO. Our Marine Corps League Detachment #993 was lucky to be the color guard. Check it out at: http://www.news-leader.com/galleries/slideshows/memorialday_new/
Ted
---
First Copyright 2004; All rights reserved by the Box LT Morab Ranch and
Morab Publishing

Created : 1/28/2004. Update : 7/2/2006

Ranch Info Photo Tour Sales Stallions Mares Foal Scrapbook Pinto
Publishing Fainting Goats Katy Kreations Favorite Links
Ozark Mountain Station Marines Speak Out

Leave the site for these Marine sites (but come back please):
Marine Corps League National MCL Springfield, MO