BOX LT
MORAB BREEDING RANCH
INFORMATION, BACKGROUND & PHOTO TOUR
RANCH IS NOW FOR SALE
Each of the years we have lived here we have made infrastructure changes and improvements to what was a simple 120 acres (ml), beginnings of a horse-breeding ranch. We now have:

- Large barn with 6 runs and small barn with 2 runs
- An excellent 50 acre hay field that consistently yields 515 4x5 round bales over two cuttings,
- Three very good pastures of 35, 15 and 10 acres,
- About 10 acres for barns, buildings, paddocks and roads,
- A 60' wood round pen (yard light) with six interconnecting paddocks and the barn,
- Natural water on each pasture,
- Pipe fencing and 5 wire barbed perimeter with 4 wire smooth cross fencing,
- All of the amenities a horse breeding operation could want,
- And yes, a warm, attractive log sided home set into a hill over looking a nice sized pond,
- And all this set in a beautiful rural setting but close to town.
- Low, low taxes and cost of living.

Barn: 120' x 48' x 14' clear span, insulated roof. Six 12 x 12 stalls including foaling stall, each with a connecting turn out run. Three insulated work rooms. Lighting and outlets through out. Indoor riding arena, hay storage and equipment storage. Seven interconnecting paddocks. 220V 30A power in each room and electric at each stall. Water hydrants in barn and outside plus adjacent to 4 paddocks.
Barn: 30' x 30', 3 stalls and large chicken, goat, sheep or whatever area. Small square bale hay storage above. New roof and two new sides. Two turn out runs from stalls. Water hydrant outside barn with water line for water tanks. 120V power in barn.
Sixty foot diameter wooden round pen, sand based. Yard light for evening work. Interconnects to 6 paddocks for easy movement of stock.
Services: Two wells – one for home and another for stock. Underground water and electric lines inside barns. Exterior water hydrants by barns and paddocks. 150 gal diesel fuel tank. 350 gal LP tank. 1,000 gallon concrete septic tank.
Fish stocked pond (Bass & Blue Gill) in front of home, spring fed year round. Cleaned out in 2003, restocked fish and no access to livestock since. Down side water valve to water stock in pastures if ever needed. Excellent swimming and fishing.
Home:
RR 3 Box 235; Ava, MO 65608-9553.
60' x 23'. 3,000 sq ft. 2006 property taxes, $724.93 – paid. Small mortgage at Town & Country Bank.
One of a kind … custom built.
One and a half story cedar log pattern siding, snuggled into a soft breaking hill – easy to cool in summer and heat in winter. Kitchen, dinning, living, master bedroom with full bath and walk in closet, laundry/utility/wash room down stairs. Upstairs bed room and full bath, spectacular windowed activity/bed room, study/office/bed room and two closets (classified 3 bedroom). Free standing fireplace heats the whole house (plenty oak on the property). Five ceiling fans; 4 upstairs to move air from the spectacular open cathedral ceiling back down stairs and one in master bedroom. Large walk in master bedroom closet, tub and walk in shower. Full bath with shower upstairs. Beautiful glass wall overview of pastures from second floor. All double glazed thermo windows. Newer well and septic.
Nice over hang porch across the full front. Yard light. Large concrete drive adjacent to garage. Vegetable patches scattered along home and fruit trees. Vehicle shelter. Both wells can easily be switched to service home if need be. Central heat and air conditioning, Hughes Net Satellite Internet service and full Direct TV Satellite including local channels. Coax connections pre wired in every room as is the phone service. 1,000 gal concrete septic tank with leach field. 350 gal LP tank, leased for $48 a year. Garbage disposal, dish washer, electric cook top self clean stove, Micro wave, side by side refrigerator. One car attached garage, parking shed and barns for equipment.
Nestled three quarter mile off highway 76 and set back one quarter mile on private lane, gives the ranch all the privacy you could want while still in contact with the rest of the world. Surrounded by cattle ranches. About 45 miles SW to the live entertainment capitol of Branson, Mo, or 45 miles NW to major services of Springfield, MO. Thirteen miles from the town of Ava, MO.
Box LT Morab Ranch
RR 3, Box 235
Ava, MO 65608-9553
417-683-4426
cel 417-250-0026
email
PHOTOS AROUND THE RANCH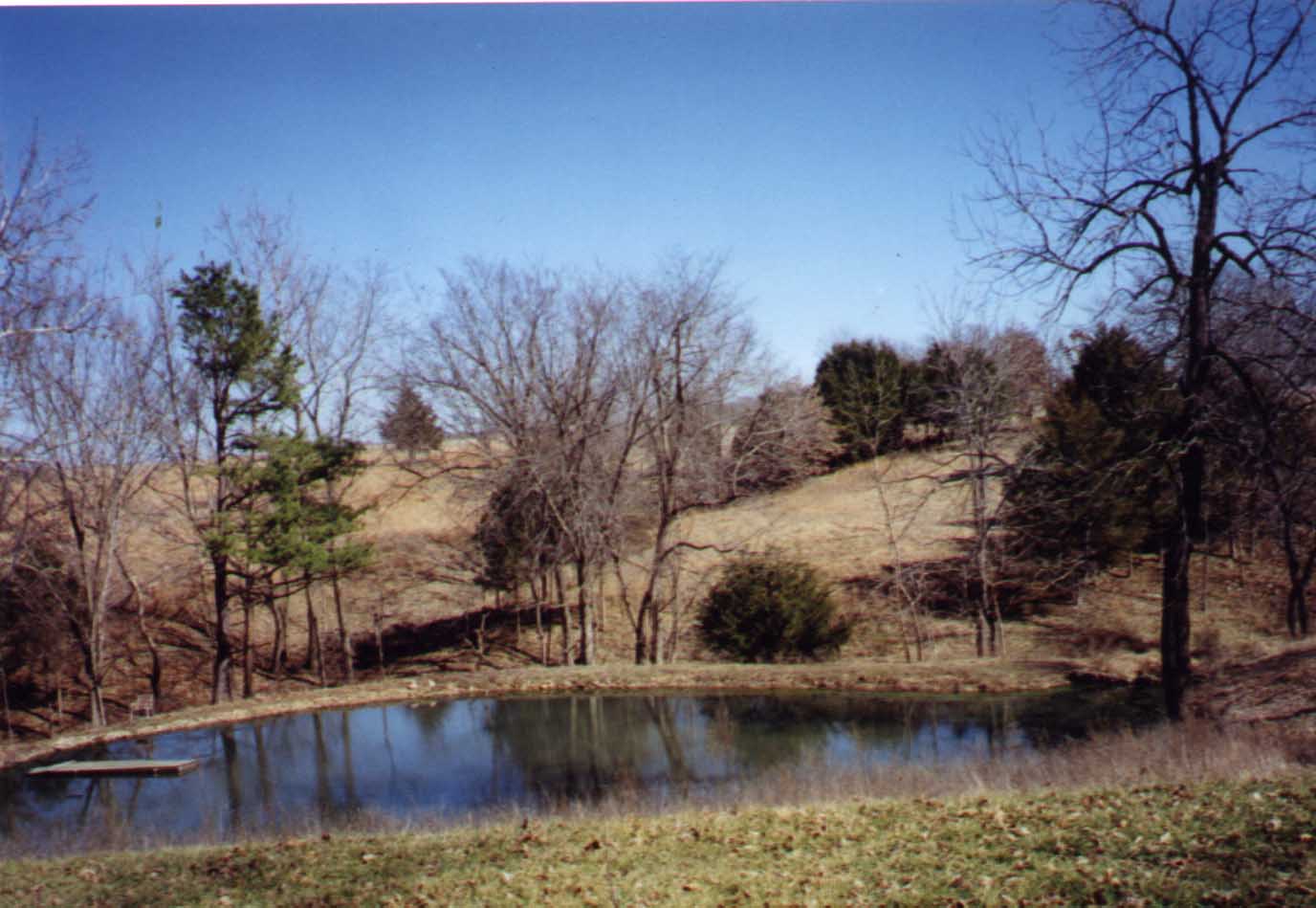 | | |
| --- | --- |
| | |
| | |
| | |
| | |
| | |
| | |
| | |
| | |
| | |
| | |
| | |
| | |
| | |
| | |
Photos taken in late fall or early spring so more land can be seen. We have 3 months of each season and now and again some snow in winter ... usually gone in a few days. One Hundred twenty acres (ml) with a superior 50 acre level hay field; 15 acre, 35 acre and 20 acre fully cross fenced pastures. Home overlooks an all year spring fed pond stocked with Blue Gill and SM Bass, whose overflow services two pastures, and a spring time creek services the third. Sixty foot wooden round pen, 6 pipe fence runs (from stalls) along large barn and 2 pipe fence runs (from stalls) along old barn. One foaling stall, two 12 x 24 work rooms and a 8 x 12 tack room in large barn, and room to store more than 150 large round bales of hay and vehicles, and still work with horses. Six interconnecting pipe fenced paddocks which can easily be connected to the round pen. Winter proof underground water lines service the barns for stalls, hydrants and 4 paddocks, with electricity to barns. Three quarter mile off of state highway 76 and a one quarter mile private lane to house, barns and paddocks.
Thirteen miles from town keeps us rural in atmosphere but close enough for services. The entertainment capitol of Branson (fishing & boating), MO is a forty five mile trip southwest and Springfield, MO is a 45 mile trip northwest. Bull Shoals Lakes are a forty five mile trip due south for major fishing and boating activities. White Tail deer, turkey and small game abound on the property. Close to major portions of Mark Twain National Park lands for hunting, hiking and horse back trail riding.
Box LT Ranch
RR 3, Box 235
Ava, MO 65608-9553
417-683-4426 fax 417-683-5708
First Copyright: 1/23/98 Updated: 9/21/2007
© All rights are reserved by the Box LT Ranch and Box LT Publishing.
Any unauthorized use not given in writing is strictly forbidden.
Ranch Info Photo Tour Sales Stallions Mares Foal Scrapbook Pinto
Publishing Fainting Goats Katy Kreations Favorite Links
Ozark Mountain Station Marines Speak Out

Leave the site for these Marine sites (but come back please):
Marine Corps League National MCL Springfield, MO