THE MORAB HORSE
OFFICIAL HISTORY


THE HOOF BEATS OF OUR LIVES

NOW, MORE THAN EVER - HISTORY TO BE PROUD OF
1855 - sine die
- PRESERVING THE PAST -
- HONORING THE PRESENT -
- LOOKING FORWARD -

Written by historian Ted Luedke (a Morab breeder since 1987)
in 1997 and updated through 2006
(all rights fully reserved by Box LT Publishing and the author)


THE MORAB BREED

The question most often asked about the Morab surrounds their status as a breed. Some misunderstand and consider the Morab a part-bred while others have termed them half-breeds or crosses. Morabs (the progeny of Morgan and Arabian breeding) are neither half-Morgans nor half-Arabians, but rather are a very distinct breed that combine and enhance the best traits of their parent breeds.

Today's Morabs have proven over five generations that they transmit their characteristics with a high degree of certainty to their progeny. According to the United States Department of Agriculture, Handbook #394, "A breed of horse may be defined as a group of horses of common origin and possessing certain, well-defined, distinctive, uniformly transmitted characteristics that are not common to other horses ..."

It is this ability to transmit distinguishing characteristics to their progeny that makes the Morab a distinct breed, rather than just another nice crossbred horse, putting the question of breed status to rest! Only foundation stock (first generation Morabs) can posses Morab registration, 1/2 Morgan registration in the Archival Morgan Record, and 1/2 Arabian registration in the Half Arabian Registry (IAHA). This makes first generation Morabs triple registrable, plus the various color and pattern registries. Succeeding generations of Morabs bred Morab to Morab are no longer registrable with either half registry.

More than just a textbook history, today's breeders and owners are part of a family with a past, a present and a future (sine qua non). Building a new breed is not easy but what is done today is based as much on the past, as the future is based on a firm foundation of the present. Learning the important milestones that have defined the character of the breed has been important to its growth and development. Morab history seems to have started in the west. Lynn Beckford was the original researcher and in 1986 she searched in the libraries and worked her way through many Arabian and Morgan books to put the first documentation together, and we are greatly in her debt. She said, "there was a concern with the lack of documentation of the beginning of the Morab breed as there was limited material prior to 1973 and I worked for five years on the project". Ted Luedke has added more than 15 years of research to Lynn's beginnings to produce this version.



ARABIAN REGISTRY
Picture of Rahas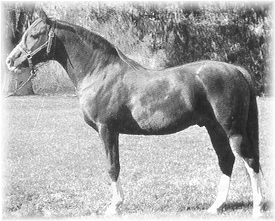 In the book "HISTORY OF THE ARABIAN HORSE REGISTRY", written in the early 1900's, Lynn tells us there was a provision for the get of the Arabian/Morgan crosses in the early Arabian Horse Club Registry. This reference was discontinued about the time of World War I and prior to the formation of the International Arabian Horse Association in the 1940's. Unfortunately with that change in procedures (registering and recording only purebreds) and the starting of IAHA (Half Arabian Registry), those earlier records were no where to be found.

The Arabian has a unique skeleton from other breeds, in that it has 17 ribs (other horses have 18); 5 lumbar vertebrae (other horses have 6); and 16 tall vertebrae (other horses have 18.) This skeleton finds it way into the Morab too, so there are two such unique breeds.



MORGAN REGISTRY
Picture of Flyhawk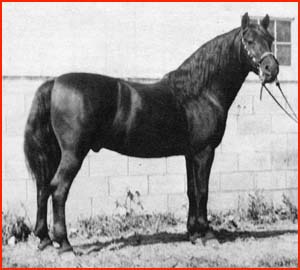 Picture of Flyhawk. With the 1857 book "The Morgan Horse" by D. C. Lindsley, the early Morgan historian, came a lot more background. He discussed the needs of this country relative to horseflesh and according to Lindsley, in New England a person was rarely seen on horseback, preferring rather to drive. This was becoming the trend in the South as well, and with it the age of the light buggy was dawning. The buggy was fast becoming the favorite means of conveyance because of the many conveniences they
offered, like protection from the elements, carrying light packages and personal baggage. These points combined with a light carriage upon good roads, allowed a single horse to perform the work of two horses under saddle, making this mode of transportation very popular.

A major part of Lindsley's essay was concerned with perpetuating and improving the Morgan breed, and stated where mares of Morgan blood could not be obtained, mares possessing a strain of racing or Arabian blood could be considered. Lindsley specifically recommended 1/8 to 1/4 Arabian blood as suitable and you find many of the Morgan/Arab cross (Morabs) registered in the American Morgan Horse Association registry prior to their January 1, 1948 abolishment of their Rule 2 that allowed out crosses.

From the Lindsley essay came information about the first volume of the "MORGAN HORSE REGISTRY" written by Colonel Joseph Battell. Battell continued on the work started by Lindsley, but went one step further by taking on the task of documenting the Morgan breed and publishing the first Morgan Stud Book which also contained a fairly complete history of the Morgan breed.



GOLDDUST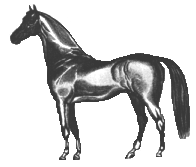 Battell's Volume I provided an entire chapter devoted to the stallion named Golddust MHA70; a horse of great merit, whose bloodlines reveal he was a Morab, registered as #70 in the Morgan registry. Golddust was foaled in 1855 (bred by Andrew Hoke near Louisville, Kentucky), and sold when a weanling for $1,000 to L.L. Dorsey, Eden Stock Farm. His sire was Vermont Morgan
MHA69, his dam the unregistered Hoke mare. The Hoke mare was said to be by Zicaaldi, a chestnut Arabian stallion, presented by the Sultan to the United States Consul, Mr. Rhind, and was then imported by him.

Golddust became an important sire of the time and was retained by Mr. Dorsey for his career. He was described as being pure gold in color, off hind ankle white, sixteen hands high and weighing 1,275 pounds. It was reported he was never defeated in the show ring at the trot or at the flat-footed walk and that at the flat walk he could cover six miles in an hour. No stallion of his day produced larger, more handsome, showy horses, or more winners in the show rings and trotting races of the era. His get were exhibited at all the prominent expositions and fairs with Goldsheen MHA4971 (by his son Goldzil) winning his classes at the St. Louis World's Fair in 1904.

Golddust outperformed anything bred before in Kentucky. Racing in 1861, Golddust defeated Iron Duke in a match race, best three out of five heats, for a purse of $10,000. Besides being an animal of great beauty and refinement, he was noted for endowing his offspring with extreme speed. Although the Civil War and his own untimely death curtailed his stud career, he sired 302 foals and left 44 trotters of record. Speed of his get out ranks even the great Hambletonian. In addition to their speed and racing quality, his get also illustrated the style and beauty of their Morgan and Arabian lineage.
A search through the IMR™ records has found over 100 of today's Morabs tracing their ancestor's back to Golddust. This connection goes through a series of stallion and mare tail mates, but passes in great numbers primarily through the 103 progeny of Flyhawk MHA7526.



TIME MOVES ON

With the advent of the carriage horse, the country became very involved with speed and horses were not sold by pedigree but rather by their racing time. It seems these horses were not only raced on the tracks but in friendly matches on the country roads. This was a fascinating time however, in the search for sheer racing speed, the Morgan blood, and unfortunately, that of the Morab somewhat disappeared into the new breed of Standardbred. Couple this with the advent of the horse less carriage and in a very short period of time the entire horse industry in this country changed dramatically.



WILLIAM RANDOLPH HEARST

Little more was found until the 1920's, following World War I. At that time the famed publisher William Randolph Hearst had a superior Arabian breeding program and had a short-lived, but important Morgan breeding program which included a program of breeding Morabs. Hearst is credited with having coined the word "Morab" and some of his Morabs were registered as Morgans with the "Sunical" prefix (his Morgans had the "Piedmont" prefix), under the now extinct outcross Rule 2 of the American Morgan Horse Association.

Hearst purchased 14 young mares from Roland Hill (five yearlings and nine two-year-olds.) Twelve of them were daughters of the Brunk-bred Pongee Morgan (Allen King x Galva). Three lines of this stallion's heritage traced to Daniel Lambert 62. The other two young mares were by Querido (Bennington x Artemisia). The dams of all of them were bred by Richard Sellman and sold to Roland Hill. On June 1, 1931 Mr. Hearst purchased eight more Querido daughters, and again the dams of them all were Sellman-bred, Hill-owned. Hearst purchased the stallions, Uhlan (Bennington x Poinsetta [by Troubadour Of Willowmoorl) and Mountcrest Sellman (Joe Bailey [by Headlight Morgan) x Kitty E [by The Admiral.) These were to be the heart of his Morgan breeding program.

Hearst bred Morabs by crossing his mostly Crabbet and some Davenport based Arabian stallions (left to right) Joon AHR439, Rahas AHR651, Sabab AHR710, Gulastra AHR521, Kasar AHR707 and Ghazi AHR560, to his Morgan mares.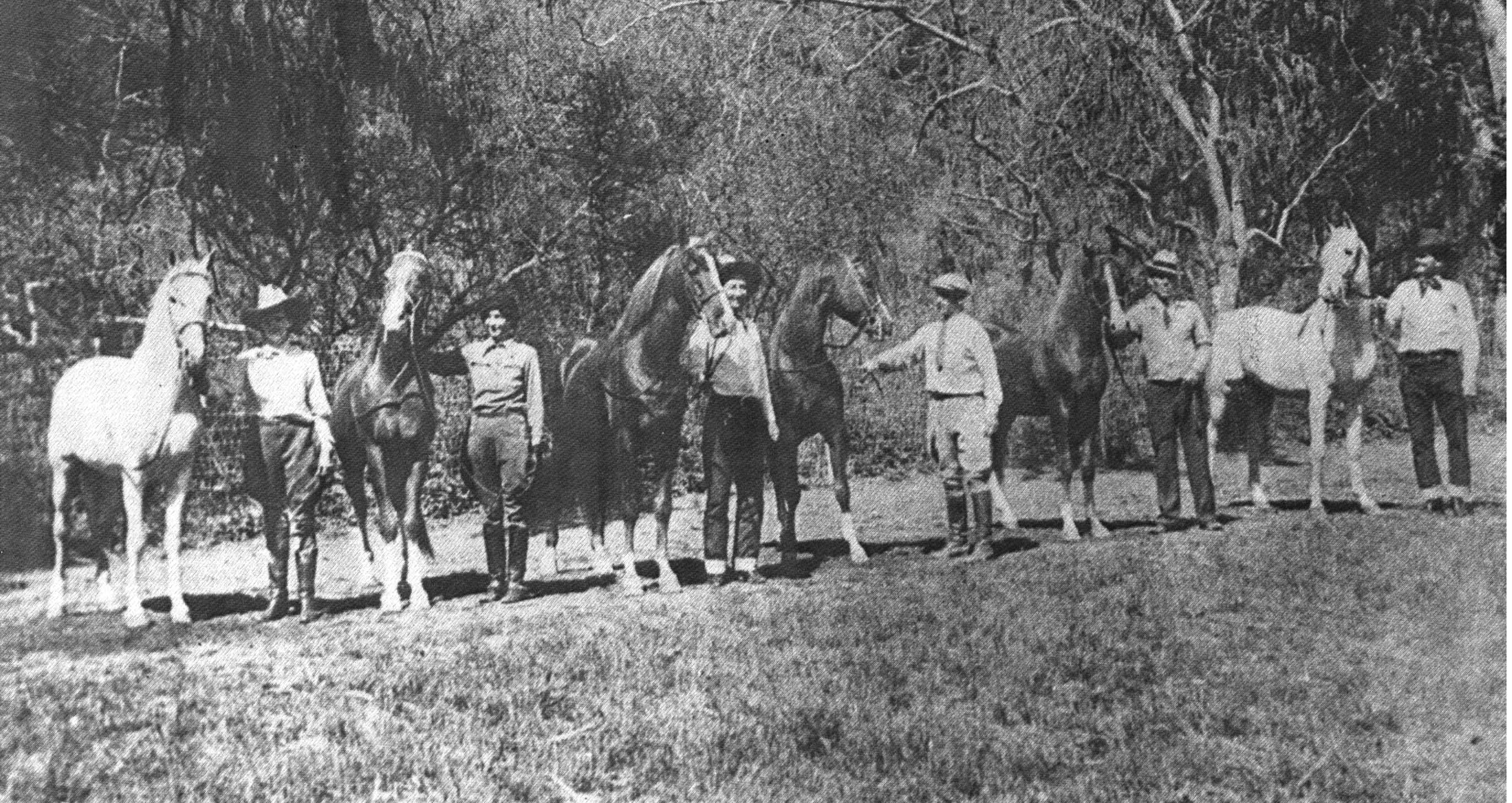 Mrs. William Randolph Hearst II said in her book "Horses of San Simeon" that Hearst, "... found the produce were excellent for work on his California Ranch." "He registered 110 horses in the AMHA, 18 of which were Morabs", she said. Mrs. Hearst graciously granted the author the right to use material and pictures from her book. Quoted in an early American Morab Horse Assn. Brochure, "According to A. J. Cooke of the Hearst Corp, Sunical Div. … Hearst bred Morabs in the 1930's and 1940's for ranch work … and were desirable for the large, rough mountainous terrain of the Hearst Ranches." Hearst had the 900,000 acre Babicora Ranch at Temosachic, Chihuahura, Mexico where we might find more Morabs but breeding records were not kept. A direct lead to such breeding is found in the pedigree of Monita Gift, MHAX0606 (bred by 0. C. Foster), Montabell x Neita. Neita, described (AMHA Register, Volume VI, p. 182) as an "unregistered mare, bay, foaled 1935 or 1936, bred by Hearst Sunical Land and Packing Corporation at their ranch in Mexico where breeding records are not kept. There were both Morgans and Arabs on ranch at that time and this filly is known to be at least half registered Morgan blood. The sire is probably Morgan and the dam Arab and Morgan cross."

Hearst purchased Mountcrest Sellman MHA7289, bred by Richard Sellman of the famous Sellman Ranch in Texas, from Reginald H. Parsons, to expand his Morgan program. He bred him to the mare Pontez MHAF0195 (a Morab by the Arabian Antez AHR448 out of the Morgan Pondette MHA04523, producing the Morab stallion Antman MHAX8318. Antman went on to sire 35 foals that were registered with the AMHA.

The MCN honors Mr. Hearst's critical contribution to the breed by naming its only cash award program after him, the "Hearst Memorial Performance Fund," part of the Lifetime Achievement Award Program.

To date I have traced 25 of the IMR™ registered Morabs back to this breeding program through a combination of stallion and mare tail mates. These Morabs are not only out west as we might suspect, but the Midwest and Canada too. Rahas and Antman come up more often than his other stallions.

These IMR™ Morabs trace back to both the
Morgan Golddust and the Hearst Arabians:

Aladdinn's Enchanted Dream - IMR0CA5 - 1996 bay Stallion
BLT Gentle Blaze Afire - IMR2244 - 2001 chestnut Overo Stallion
BLT's Coaldust - IMR1542 - 1996 black Stallion
Gentle Ben +BA - IMR013B - 1991 bay Overo Stallion
LM Aurora Sparkler - IMR0B93 - 1995 bay Mare
LM Sparkling Radiance - IMR0B96 - 1996 chestnut Mare
Reinbeaus Illusion - IMR0F9D - 1996 gray Stallion
Whispering Bold Kamar - IMR1104 - 1996 chestnut Gelding
Windmere Ambrosia - IMR02BD - 1982 palomino Mare
Windmere Erica - IMR0136 - 1984 gray Mare


SWENSON - SMS RANCH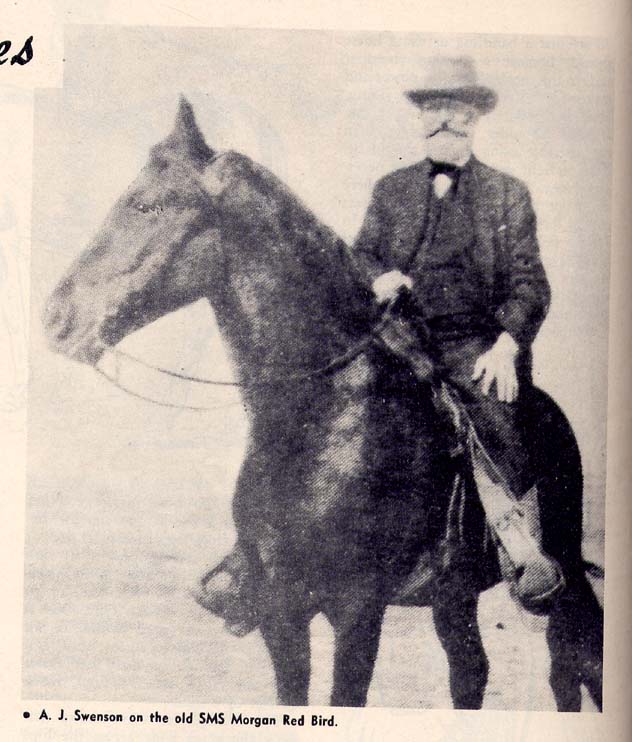 Picture of Swenson on Red Bird. Another Morab breeding program of interest was developed by the Swenson Brothers (Eric Pierson and Swen Albin Swenson) near Stamford, Texas on their fathers (Swante M. Swenson) world famous SMS Ranch. The purchase of Morgan stud colts Red Bird MHA6775 and Gotch MHA5979 (sons of The Admiral MHA4871), along with a band of seven Morgan brood mares just prior to 1920, marked the beginning of the SMS expansion into Morgans. A few years later three Government Remount Arabian stallions were added to the stock and fine Morab cutting horses evolved. One example was a bay gelding called Rey Boy (AQHA15810), foaled at SMS in 1943 and owned by Wild Bill Elliott of Hollywood fame. Rey's sire was the Quarter Horse Billy by King (P-234) but his dam was a Morab sired by Niwad (Arabian) out of the daughter of an SMS Morgan Stallion (AQHA registry).

The Swenson Land and Cattle Co., Inc., with land located in twelve counties of the Texas Rolling Plains (over 500,000 acres), was dissolved into four companies in 1978 under the names of SMS Ranch Co., Inc., Tongue River Ranch Corporation, Throckmorton Land and Cattle Company and Swen R. Swenson Cattle Co. The original SMS brand (with backward S's) was adopted by Swen R. Swenson Cattle Company. In 1997 the ranch board of directors brought back The Swenson Land and Cattle Co., Inc., name.



FULLER

A very significant breeding program centers on Martha Doyle Fuller of Clovis, California. In 1955, in an attempt to breed a horse that could successfully compete on the open show circuit, Mrs. Fuller developed a Morab breeding program. She experimented with several horse breeds; however, the Morab was the only one she felt could consistently fill the bill, generation after generation. It was from her breeding program that the first Morab registry was formed. Her daughters (Mrs. M Ilene Miller) husband James founded the American Morab Horse Association Inc. (a closed corporation where members had no vote) on July 19, 1973. This first Morab registry was also called 'Morab Horse Registry of America', and 'Clovis' for the town she lived in. It issued Gold Seal Certificates to Arabian and Morgan crossed Morabs with full pedigrees (Premium Division) and Blue Seal Certificates (Permanent Division). In that time what were to become Morabs only held Half Arabian registration and no Morgan pedigree was listed so the Blue Seal division was needed for those foundation Morabs. In 1978 they established the 25/75 minimum/maximum blood limits for Morgan/Arabian blood mix.

It was because of Mrs. Miller's efforts that we have registered Morabs and a tie from the past to some of today's Morab breeding programs. The years since have brought a re-emergence and a new appreciation of the Morab breed for its own fine qualities. The Morab breed owes its current success to Mrs. Miller's dedication and belief in the breed. To many, she is known as 'Mrs. Morab'. Lynn Beckford had corresponded and spoken with her over a period of time and she said of her, "I will say her nickname was a well deserved one. It was under her direction that two regional Morab Clubs were formed and her registry personally supported the breed at numerous horse fairs." With Mrs. Millers passing in 1980, the first registry began to rapidly fade away!

During this time John & Pat Marsh along with David & Andrea Juricic incorporated, The Hearst Memorial Morab Horse Registry, also in California (11/16/1976). Andrea Juricic (who was the registrar) told this writter, "It started October 26, 1976, was patterned after the Palomino Horse Association, and registered 50 Morab horses." With the retirement of the Marshes and a move across the country by the Juricic's, this registry finally merged with the then new NAMHA. Andrea passed away in early 2000 from an automobile accident.



REGISTRY UPDATE

In 1977 Phyllis Griffith formed the Midwest Morab Club in Waldo, WI. This was the beginning of the powerful growth of the Morab in the Midwest. Phyllis & the club took the Morab to the Midwest Horse Fair (one of the first all breed Expositions) in 1980 and there has been a Morab demo there ever since. In the early 1980's, as the Morab Horse Registry Of America (Clovis) dwindled, the North American Morab Horse Association (NAMHA) was founded (2/8/1985). Morab Community Network Life Member & IMBA Director, Carol Hardy (then Stankiewicz) reported ... "It was in the late summer of 1984 when a group of Wisconsin Morab enthusiasts met at the home of Gordon & Betty Weyrauch to form NAMHA. Present at that meeting were Pat Fochs, Lynn Beckford, Phyllis Griffith, Carol Stankiewicz (now Hardy), and Jean Nutter (now Schultz), and of course Gordon and Betty. Those breeders saved the day for the Morab and the first NAMHA registrations were issued early in 1985."

While it was not able to obtain Mrs. Millers records, Carol goes on to say, "The primary goal of NAMHA was to provide an organization to register Morabs so the breed could continue to grow. The Registry was to be based in Hilbert, WI at the home of Pat Fochs. It was agreed to continue the policies of the Clovis registry regarding registration requirements, and also to accept any Morab already registered with Clovis into the NAMHA registry" says Carol. It continued to register on conformation/type or Morgan/Arabian bloodlines (but with out special categories like the Premium - Gold & Permanent - Blue seals of the prior registry) and thought that distant Thoroughbred crosses were good. Carol was a director on the NAMHA Board of Directors for several years.

On 3/6/1987 the first member owned Morab breeders group was incorporated by the major breeders. The International Morab Breeders' Association Inc. (IMBA) offered breeder members marketing ventures, co-op advertising, breed continuity, education, referrals, newsletters and regional and national Futurity program potential. As the breed began a bright resurgence in the mid to late 1980's, the privately owned NAMHA quickly grew apart from its breeders and founders. With NAMHA registration and correspondence taking mostly 6 months to be responded to and calls going unanswered, in 1992 IMBA reluctantly created the International Morab Registry (IMR)™ to fill the critically growing void. The IMR™ is based only on Morgan and Arabian pedigree, called Gold Seal, but it does accept any Morab that was registered with a prior Morab registry (regardless of its pedigree - 13 are without complete pedigree) in an effort to protect the breeds history and maintain breed continuity. These 13 Morabs and their progeny have been issued Blue Seals and are clearly identified with a "#" sign in their registration number and a foot note on the face and back of the registration certificate. This Gold and Blue seal designation brought back the basic groups of the original 'Clovis' registry and carries that great history forward. The US Trademark Office issued a certificate for "IMR; International Morab Registry; and The Morab Registry" to the IMBA in late 1998. Again the major breeders and owners stepped forward to hold on to the Morabs' past and perpetuate the breed.

The IMR™ does not have any marking, color or pattern restrictions. Over 5 generations there has developed a rainbow of colors and Overo pattern (Pinto) as well as gated Morabs. Sport Morabs, CDE, Show, Endurance, Dressage and Eventing are now common. IMR™ is accepted by the Palomino Horse Breeders Of America and is pending with the Pinto Horse Association of America. It has Partners 'N Performance award affiliations with the United States Dressage Federation, American Endurance Ride Conference, North American Trail Ride Association, United States Combined Training Association and others pending.

On 9/15/1998, NAMHA dissolved the corporation and those directors started the privately owned Purebred Morab Horse Association (PMHA). This eliminated all the NAMHA registered horses with any unknown Morgan and/or Arabian in their pedigree from being part of the PMHA studbook. On 1/6/1999 a 3rd registry was started in Illinois called, The Morab Horse Association & Register. Their reasons and motivation are not certain but seem to be based on the principle of starting anew and thereby eliminating critical parts of our history, mostly the 13 horses IMR™ accepted from prior Morab Registries that do not have complete pedigrees.

It truly isn't easy to do the right thing but once again we see the proof that Morab people operating as a dedicated family team of owners and breeders can achieve wonderful results for the whole breed, while building on those family lines. After almost two decades the Breeders Association (IMBA) has grown from the original six Incorporates to an organization of hundreds of breeders and more hundreds of associates on three continents. Besides using major national and regional publications for articles and marketing ventures, they were one of the first horse based web sites and the first to introduced the Morab to the Internet in early 1996 with a professionally designed, award winning, informational web site designed and implemented by Ted Luedke. Called, THE MORAB COMMUNITY NETWORK, the site is reached at http://www.morab.com (new web master made many deletions).

Since 1999 the Morab Community Network (MCN) combines the efforts of 6 existing Morab companies and the various shared values and experiences of owners and breeders to present the Morab family to the general public.



EPILOG

People and their Morabs make the Breed.

The distribution of both the Arabian and the Morgan registries CD-ROM's in 1997 presented us with a great deal of reference material of great historical value, in a computer searchable media. Ted dug out more history to produce this current version of our history. The history of the Equine is the history of the Morab, and within that history we find and document that belonging to the Morab. Much was gathered from those CD's but It is just a matter of time before the still fuzzy, unfocused historical picture of the Morab is brought into a still brighter and clearer framework.

Only Pat Fochs remained with NAMHA from the original incorporates. Carol Hardy was a director of IMBA and along with the Weyrauch's register their Morabs with the IMR™. Lynn Beckford's dreams were never realized through NAMHA and she left Morabs completely after donating all her historical material and her rights to the "History Of The Morab Breed". She closed her original essay with, "Yet I am even more excited about the history yet to be written by the Morabs of today. I look forward to a well deserved bright future and recognition for the Morab breed; a breed that through the span of the last century and a half has done a great deal to either improve or help other breeds grow." We could not agree with her more and the years have proved her points. Thanks Lynn!

The book "Morab Moments" (Box LT Publishing) has a great deal of historical detail including charts, over 60 pictures, breeder and owner stories, forms, pedigrees and much, much more about the development, breeding and showing of the Morab. Book information is available at: MORAB BOOK